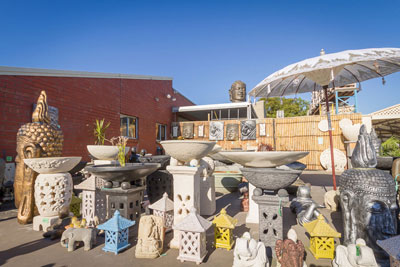 We are a family owned and operated business established in 2010, and based in Klemzig. We have South Australia's largest range of water features. It is our mission to find fresh and interesting products to enhance your living spaces. We pride ourselves on giving outstanding customer service. We Guarantee and standing behind all our products. Refresh and revitalise your living spaces at a garden centre with a difference.
Water features
Water gardens
Water plants
Fountains
Outdoor and indoor designer pots
Planters
Statues
Garden ornaments
Bamboo panels
Wood and metal art.
Visit our showroom and see over 120 running water features and over double that in our full catalogue. We have features that suit any house from classic to contemporary to modern to Asian. Relax and see the different ways you can create your own paradise right in your own backyard. Make walking into your backyard like going on a holiday. Much of our stock is unique in South Australia with exclusive products that you will not find elsewhere. We guarantee and stand by all our products.
We are open 7 days a week 10am to 6pm.
Everything you need to create your own piece of serenity.
Our guarantee
Service
We believe that our customers are the most important part of our business. We work with our customers to create their vision and make sure they have the right feature for the right place. It is my personal goal to never have an unhappy customer.
Quality Products
We guarantee all our products. We only deal with quality manufacturers and work with them to ensure innovative and quality products.
Value
We deal directly with manufacturers. This not only ensures quality, but without middlemen we can deliver the best prices to our customers.